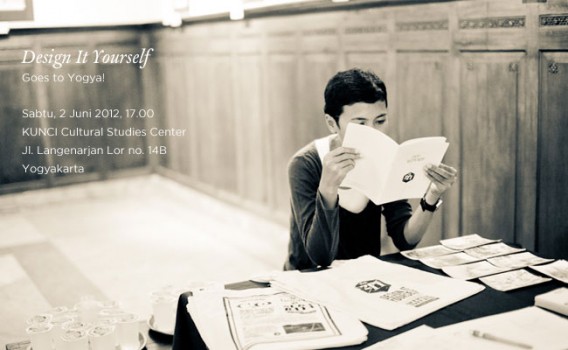 Saturday, June 2, 2012, 5pm
at KUNCI Cultural Studies Center
Jl. Langenarjan Lor No. 17B
Panembahan, Yogyakarta, INDONESIA 55131
Design It Yourself is an annual series of design events first held in October 2011 at C2O Library. For this event, we gather various parties, from small communities, business, and academics related to design, particularly in Surabaya, to together instrospect and share their stories, ideas and inspirations, about their own situations and conditions. Various design disciplines are involved, from design in general, graphic design, design business & management, fashion, digital media, comic, urban art, and urban planning were discussed in one casual talk & presentation series.
Despite being second only to Jakarta in terms of regional size and industrialisation, Surabaya, is conspicuously missing from the Indonesian national map of Creative Cities.  Indeed, large regions, particularly with a large portion of working class and older industrial economy, do not usually corner the market as Creative Cities locations.  If anything, it has generally been perceived that creative works, bohemian lifestyle, and fields not directly related to industrial economy do not flourish in Surabaya the "city of work", a thriving port city long associated with migrant labors and working class.
For this event, we will be sharing about Design It Yourself, the process of knowledge sharing, and the development of design in Surabaya.